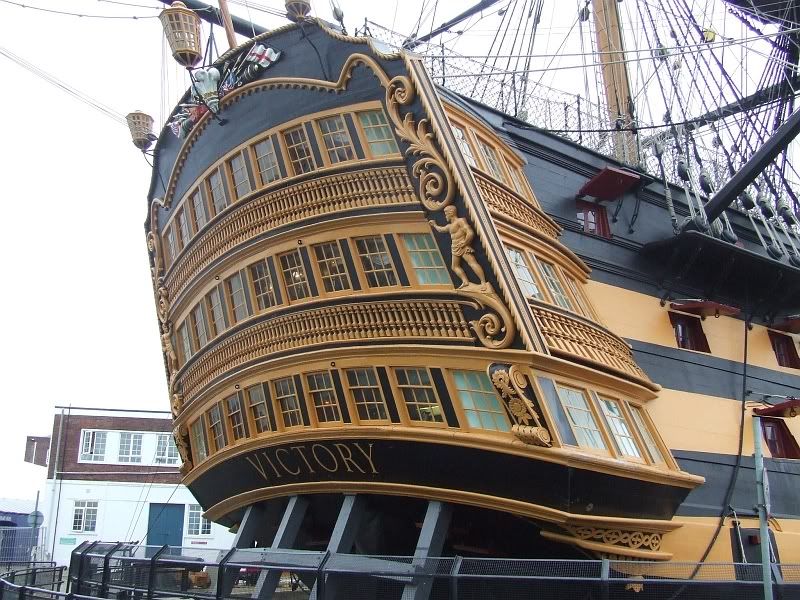 Click image to view at 800 pixels wide
Now here is living history: the last surviving warship of Georgian times,
HMS Victory
, which though she has been preserved in drydock as a British national treasure also remains a commissioned vessel in the Royal Navy. The Captain and Executive Officer have reserved parking places next to the ship... This ship, Nelson's flagship at the Battle of Trafalgar in 1805, typifies the 'wooden walls of England' that protected the country from invasion in the warlike 17th and 18th centuries, and is the technological ancestor of 1869's
HMS Warrior
, which lies a few hundred yards away at the Historic Portsmouth Naval Dockyard. I visited on a grey day in December, 2006, a day when rain was sweeping through in light, cold showers and the overcast made exposures difficult. Note that the sky is burned out to white to properly expose the ship. She was simply too big to frame the whole ship properly amongst the jumble of buildings surrounding the drydock, but I captured many excellent detail closeups. Sharpened, contrast- and colour-enhanced for publication. Fuji FinePix S5600, automatic. Image by
Mike
.