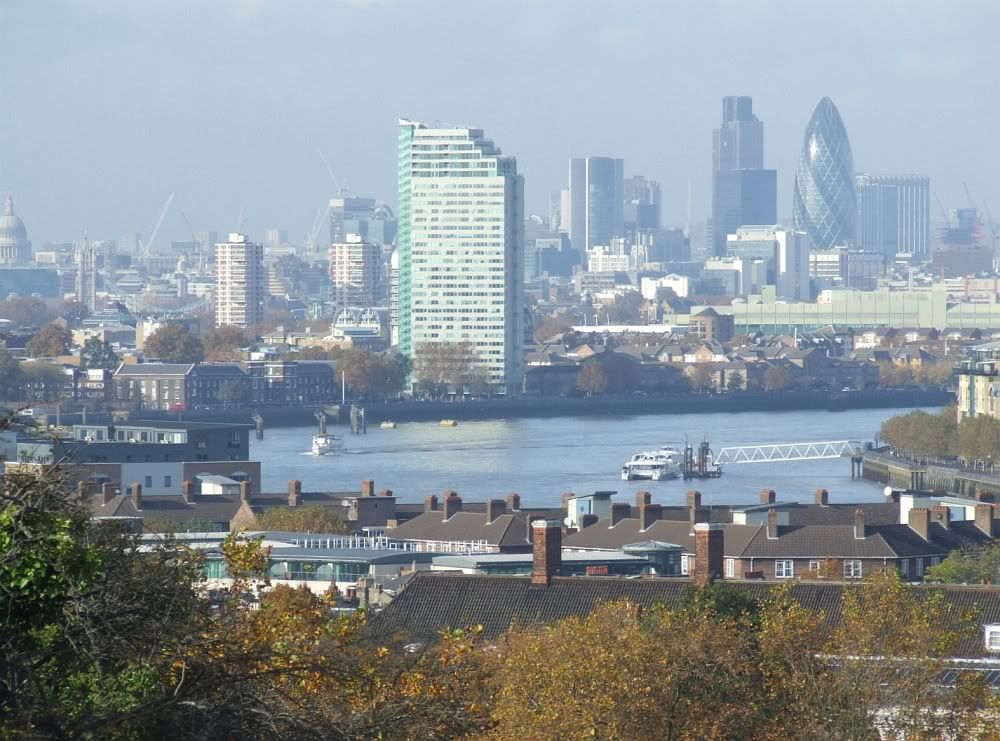 Click image to view at 1000 pixels wide
Supercities of the future are a reality today: one look at Tokyo, Hong Kong, Los Angeles or London confirms that. This is the latter, a long telephoto shot over the river seen from the Royal Observatory on the hill at Greenwich in November 2007, a place from which, in one glance the eye can scan from the Millenium Dome, over Christopher Wren's hospital buildings begun before 1700, to the new organic tower Londeners christened "The Pickle" for its oblate shape. How many cranes can you count? It's always a game, counting tower cranes on the skyline: London will be a nice town if they ever get it finished. Note the "Thames Clipper" at a landing stage on the river.
The image was sharpened and colour-enhanced, and contrast was brought up somewhat, but the most interesting digital modification was rotation. The frame when taken was off-true, the horizon line was down on the left (a symptom of pressing a shutter release on the right of the camera and most often found in either reflex shooting or subject matter whose outline biases the brain's orientation system to its shape, rather than to what's perpendicular. The arc of the river had such an effect.) It was corrected using
Irfanview
, a very powerful (free) image manipulation program which includes an incremental rotation routine allowing fractions of a degree. I rotated the image one degree to square up the edges of towers to the vertical. This resulted in a matted area, a series of wedges at the edges of the frame where the image has shrunk slightly within its own boundaries to accommodate the rotation without area loss. I cropped inside these wedges, then proceeded as normal. Fuji FinePix S5600, automatic, telephoto. Image by
Mike
.